RESEARCH & DEVELOPMENT
Research and development have been a core aspect of Catalysts' philosophy and growth strategy since inception. To support the vision, Catalysts has established a state-of-the-art research laboratory that has received recognition from DSIR, Government of India as an "in-house R&D Unit."
The R&D centre boasts a comprehensive infrastructure for research in Molecular biology, Microbiology, Biotechnology, Biochemistry, Fermentation biology, and Wastewater Management. Catalysts as a group, care for the nature and making efforts to keep the environment clean by developing sustainable technologies. We work towards improvement of our products on regular basis and provide real time solutions to industrial processes by offering fool-proof products without making any significant changes in the existing setup/process. Our Research and Development activities process is certified with ISO 9001:2015 certification.
Catalysts R&D team has a scientific talent pool of 30+ scientists composed of doctorates and postgraduates in Microbiology, Biochemistry, Biotechnology and Analytical chemistry. The team includes young, dynamic, passionate, and enthusiastic research professionals, competent and qualified industrial research experts engaged in a variety of research projects to develop eco-friendly, high-performing, and cost-effective products.
The team is continuously exploring new applications and projects in line with present and future industry requirements by understanding the science behind the need and delivering robust results through involvement and commitment. The technical expertise of our team spans across Biochemistry, Microbiology, Molecular Biology, Biotechnology, Bioinformatics, Fermentation technology, Animal feed, Analytical chemistry, Environmental chemistry, and Wastewater management. We always use alternate tools and technological advancements to keep in pace with the rapidly changing industry scenarios and to bring out quality products. The Scientific credentials of the team are evident from the patents filed (5 Indian 1 PCT) and 50+ publications in various scientific forums.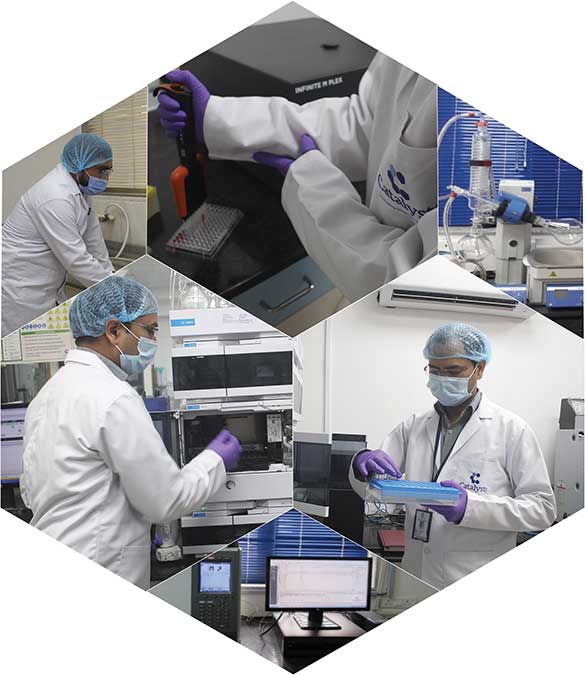 Production
Catalysts Group has its manufacturing unit located in Sahibabad, Ghaziabad, Uttar Pradesh. The facility is equipped with the latest technology and adheres to the CGMP practices. A Quality Management System is implemented throughout the process and entire manufacturing premises to ensure consistent product quality.
We maintain a sterile environment to ensure the safe products with periodic environmental bio-monitoring at regular intervals. The production team comprises of a blend of young and experienced professionals who have the capability and practical understanding of the science behind each product to manufacture the right quality products.
The manufacturing process is reliable having systems and processes for end-to-end traceability of batches including the raw materials and packaging materials. Our packaging materials are food-grade HDPE drums and aluminium packs, which are impermeable to air and moisture.
The manufacturing unit is focused on continually improvement of the process and upgradation of infrastructure allows for production batches of different sizes with a human-friendly environment following Good Manufacturing Practices (GMP). The Capabilities and the quality of the manufacturing process is evident from the quality certifications we received such as FSSC 22000 Ver 5.1, HALAL, Kosher and FSSAI.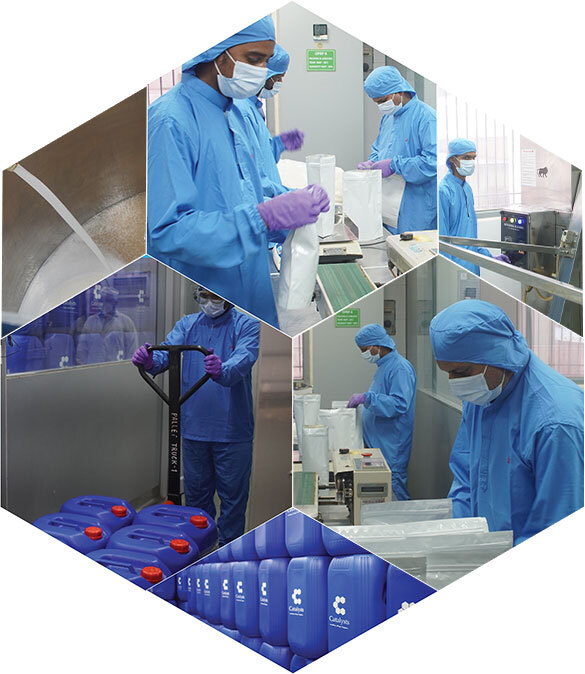 QUALITY CONTROL AND QUALITY ASSURANCE
Quality is integral part of Catalysts DNA. We have dedicated talent pool to take care of the quality aspects of the manufacturing process and products to ensure product integrity and process accuracy. The motto of our Quality team is to ensure that the final product reflects high standards and satisfies the customer's needs.
Our manufacturing unit is closely integrated with well-equipped Quality Control Lab to test and ensure good quality of raw material, finished products and to meet the regulatory standards. Our team always thrives to streamline the manufacturing processes and set control measures to detect and rectify any discrepancies to eliminate quality challenges. Our quality process is critically reviewed and certified under ISO 9001:2015 and FSSC 22000 Ver 5.1
Catalysts Connect
Keep up to date with our latest news and analysis by subscribing to our regular magazine and newsletter