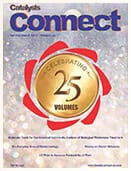 Catalysts Connect Vol 25 is our Silver Jubilee edition. We thanks to all our contributors and readers to make the Catalysts Connect a Success….
It gives a useful information on "Molecular tools for the microbial Community" "Analysis of biological wastewater treatment. Some interesting articles to read in this issue are "Ten Everyday use of biotechnology"; "Enzymes".
Also, it contains very informative article on "14 ways to increase Productivity at Work & in Digital section "How to keep Privacy on Social Network". Last but not the least, it apprises you with 9 ways to avoid diabetes & motivates you with a very inspirational story "The Power of Determination" Hope you will enjoy reading it!!! Feel free to subscribe a copy of the magazine!!!